Admin
Moderator

Messages

45
Likes

14
Points

8
To start off, I do have permission to post this.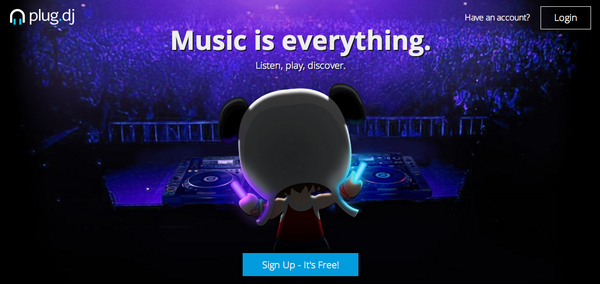 Hey yall, I think we all know what this thread is about. That's right, Plug DJ is back! First off we'll start simple with how you join the room. Simply head over to the room by following this
Plug.DJ
Create an account and start exploring the site, including making your own playlists and getting involved in DJing! Remember, consistently taking a go to play your music will earn you the Resident DJ rank, so get playing!
Commands
The room has its very own Bot, ready to help you out with whatever you need. In addition to monitoring and moderating the DJ Booth, this Bot has some nifty commands for you to use. I've outlined them in the spoilers below. Go crazy with them!
!help Prints help info.
!songinfo Give current song info.
!cookie [@user] Gives a cookie to the specified user.
!pizza [@user] Gives a pizza to the specified user.
!hug [@user] Gives a hug to the specified user.
!food [@user] Gives some food to the specified user.
!hug [@user] Gives a hug to the specified user.
!taco [@user] Gives a taco to the specified user.
!shoe [@user] Throws a shoe at the specified user.
!love [@user] Show your love for the specified user.
!flip Make the bot flip its magical coin!
!flip Make the bot flip its magical coin!
!dice Make the bot roll its magical dice!
!creator Print the bot creators name.
!8ball [question] Ask the bot a question. It will return random variables of a yes or no answer.
!fortune Get your fortune told by the almighty bot!
!eta Prints the estimated time until you arrive at the DJ booth.
!autowoot Print the link to PlugCubed, the advised script/plugin for autowooting.
!emoji A link to a list with emojis.
!join Join the roulette if it's currently running.
!leave Leave the roulette if you're participating.
!link Print a link to the current song.
!song null Print the full name of the current song.

Resident DJ Commands
Spoiler: Hide
Command Args Description
!rdj null Prints information on how to get Resident DJ. Currently not working, will be fixed as soon as possible.
!ba null Explains what a Brand Ambassador is.
!xphelp null Explains how to earn XP.

And many more.(Working on up to date full list)
Rules
Just for good measure, if you can't locate the room rules on the site, I'll include them in a list below:
1. Use common sense. Just because it's not on the rules doesn't mean you should do it.
2. Don't complain. We're all here to have fun.
3. Don't ask for skips, fans or ranks.
4. Don't advertise other rooms.
5. Do not play troll songs.
6. No trolling or spamming. This includes caps.
7. No songs over 6:00 minutes, they will be automatically skipped.
8. Songs will be skipped if they have too many "Meh's", please don't complain.
Old picture from previous imperial/swagcraft room
https://i.gyazo.com/734403b53d8991d1162d9fb922cf5ca2.png
PlugCubed / Plug³
To make your Plug DJ experience more enjoyable and customise-able, I thought it'd be a good idea to introduce you to an add-on that goes by the name of Plug³, or PlugCubed. This add-on is easy to install, and allows you to a range of different things including customise chat colors, auto-woot and even configure chat notifications. Not only does it do this, but it allows us to edit the look of the room, turning it from the boring theme into a lively environment everyone will love.
Installing the add-on is as easy as creating a bookmark, it's that simple.
Simply create a bookmark with the code below in the 'URL' section, navigate to the Imperial Networks PlugDJ room, and open/run the bookmark. If you're unsure on how to get it working, I've included a short video from the one and only legend, PurpleTeletubbie on how to do it in Google Chrome, it should be relatively similar in other browsers. If you're still having trouble, ask any of our Staff in the PlugDJ room, they should be able to get you going in no time!
Code:
javascript:(function(){$.getScript('https://plugcubed.net/scripts/release/plugCubed.js');}());
If you have any suggestions please leave a comment.
Last edited:
3